The purpose of the Southwest Chapter ASSP is to promote the advancement of the safety profession and safety professionals, and development of its members in the geographical area served. The Chapter was chartered by the national society in 1937. We are part of the society's Region III.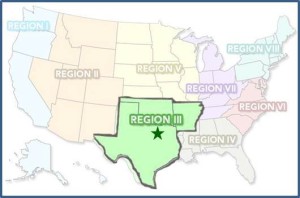 Our geographical area within the multi-state Region III area consists of the following 11 counties in North Central Texas:
Dallas, Collin, Cooke, Denton, Ellis, Fannin, Grayson, Hunt, Kaufman, Navarro, and Rockwall Counties. Our Student Section is located in Bryan County, Oklahoma, at Southeastern Oklahoma State University in Durant.
The Chapter members are professionals in the safety, health, environmental and related fields. Annual membership is approximately 550 members plus the Student Section of some 60-100 student members. Past highlights of the Chapter's members and events are listed here.
The Chapter meets monthly from September through June; usually mid-day luncheons with a guest speaker. Special events include a 1-day Professional Development Conference which has been held annually since 1972. Non-members are welcome to attend all functions. Refer to our Events page for all our schedules and locations.